Echo PAS-2620ES Petrol Multi-Tool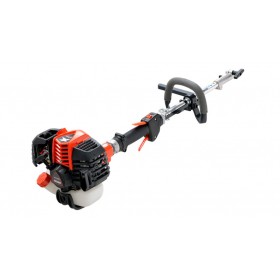 The PAS-2620ES Multi-tool system has a 25.4cc heavy duty ECHO engine connected to a half length driveshaft. It features Easy Start for almost effortless starting, a loop handle and grouped cluster controls.
Seven optional tools can be fitted quickly and easily, simply by pushing and tightening the preferred attachment to the engine unit.
Engine Displacement: 25.4cc
Dry Weight: 4.8kg
Output: 1.0kw
Fuel Tank Capacity: 0.6 litres
Start Assist System: ES-Start
Overall Length: 1038mm

Optional Attachments:

MTA-PS Power Brush
MTA-PB Blower
MTA-TC Cultivator
MTA-LE/E Lawn Edger
MTA-PP/E Power Pruner
MTA-AH-HD Hedgecutter
MTA-TB Trimmer/Brushcutter
MTA-3EXT Extension Pole

If you want to check stock availability then please call 01622 872400 or email swmowers@aol.com. Please give us a call if you want to discuss our Echo discount structure.