Echo PLB-58V2AH 58V Battery Powered Blower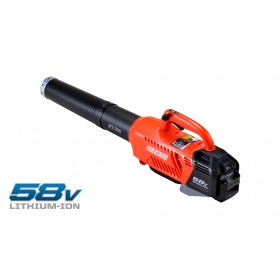 ECHO's PLB-58V2AH is a lightweight, battery powered blower. It is ideal for anyone wanting a product that is easy-to-use, with low noise, low vibration, low running costs and zero emissions.

The 58V system, using the latest Lithium-ion technology, provides high-density energy, compared to traditional heavier, less powerful battery technology. A professional grade maintenance-free brushless motor ensures long lasting performance.

The blower comes with a 2Ah battery which offers extended run-times. The quick charger ensures the 2Ah battery is boosted to 100% capacity in just 30 minutes – meaning you experience less downtime.

Features include cruise control which makes the blower comfortable and easy to use.

Please Note: The PLB-58V2AH is supplied with a 2Ah battery and charger when 'reserving online'.
Run Time (with 2Ah battery): Up to 15 min
Dry Weight: 3.2kg
Rated Voltage: 51.1v (max 58v)
Standardised nozzle type: Round straight
Air Volume: 730m/h
Maximum Air Speed: 51.4m/s

Warranty - 1 year Professional or 2 year Domestic
If you want to check stock availability then please call 01622 872400 or email swmowers@aol.com. Please give us a call if you want to discuss our Echo discount structure.