Oregon B400E 2.4Ah Battery Pack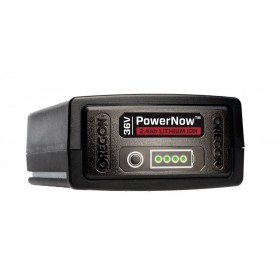 The B400E 2.4 Ah Lithium Ion Battery Pack is engineered with premium cell technology for increased endurance, power, and run time.
Compatible with all OREGON® Cordless Tool System products.
Run time example: Approximately 325 cuts of 5cm x 7cm (2" x 3") diameter wood on the PS250 Pole Saw.
The Oregon battery platform provides all the power you need to get the job done. The PowerNow premium cell technology ensures a long run time. Superior construction makes all our batteries rugged and durable.
Premium Cell Technology: Lightweight premium cells combine reliable performance and energy capacity.
Constant No-Fade Power: Maintains constant power through discharge.
Retains Charge: Retains a charge even after months of storage.
Consistent Capacity: Charge maintenance and full discharge is not necessary to retain consistent capacity throughout the life of the battery (no memory effect).

If you want to check stock availability then please call 01622 872400 or email swmowers@aol.com.