Echo 2Ah 58V Li-ion Battery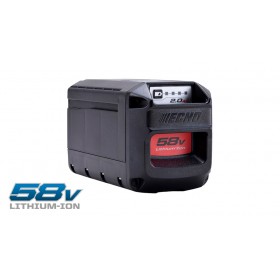 Lightweight 58V 2Ah battery.

ECHO's 58V system, using the latest Lithium-ion technology, provides high-density energy, compared to traditional heavier less powerful battery technology.

Using the quick charger, the 2Ah battery is boosted to 100% capacity in just 30 minutes.

2Ah and 4Ah batteries are compatible with the entire ECHO 58V Battery Series. This means that even if you own more than one of our 58V Battery Series products, you only need to buy one battery – proving that one size really does fit all with ECHO.

Rated Voltage: 51.1V (max 58V)
Battery Type: Li-ion
Weight: 1.2kg

All batteries come with a 2-year warranty.

If you want to check stock availability then please call 01622 872400 or email swmowers@aol.com.